Dr. Lawrence Scott's Blog
Dr. Scott Inducted in the San Antonio Talented 10th Scholars
By Joshua Reyes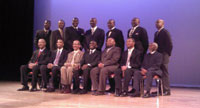 The Talented Tenth Project collects and showcases published doctoral dissertations from African American men in the San Antonio/Bexar County Metropolitan Statistical Area. Traditionally, works of this magnitude have been restricted to placement in University libraries and not made readily available to the broader, non-academic community.
This endeavor, the first of its kind, recognized scholarly work of the inductees. The goal of this historical event was to provide local access to some impressive work and serve as a firm foundation for the subsequent development of a community think tank. This project provided the platform for collecting future scholarly work from African American scholars.
Additionally, scholars are currently participating in a program called, "Doctors producing Doctors" in which they mentor ten scholarly and talented African American Males in a low-performing school to replicate their successes in others.